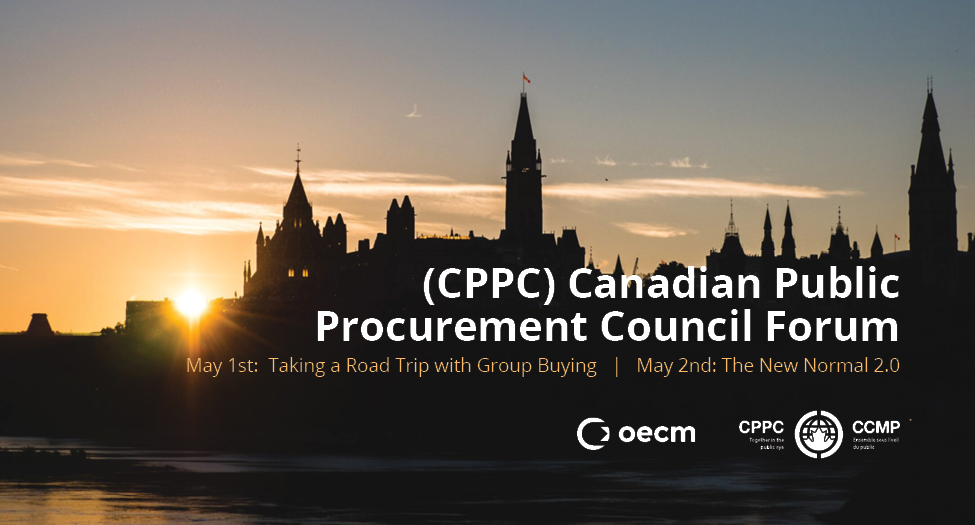 OECM will be at a roundtable and doing a presentation.
Description
From April 30 to May 2, 2023, the Canadian Public Procurement Council (CPPC) is hosting their Annual Forum hosted in Calgary, Alberta with OECM as a proud sponsor. In addition to our sponsorship, OECM will both be presenting and involved in a roundtable discussion to address the current functions of procurement, the emerging trends that will continue it's impact on the future of procurement, and the expansion of strategic partnerships to advance our relationships and secure opportunities.
NCPP Roundtable Discussion
Topic: Taking a Road Trip with Group Buying
Date/Time: May 1, 2023 5:00 p.m. – 6:15 p.m. (EST); 3:00 p.m. – 4:15 p.m. (MST)
Panelist:
Karen Owen
Vice President of Supply Management and Customer Relations, OECM
NCPP Presentation
Topic: The New Normal 2.0: Navigating the Ever-Changing Supply Chain Landscape. New Challenges, Opportunities, Best Practices, and Resilient Procurement Strategies
Date/Time: May 2, 2023 4:30-5:45 (EST); 2:30 – 3:45 p.m. (MST)
Presenter:
Perry Arzumanian
Director, Strategic Sourcing Solutions, OECM
More Details: Conference Website
OECM Contact: For more information, please contact our dedicated Customer Support Team at customersupport@oecm.ca or 1-844-OECM-900 (1-844-632-6900).