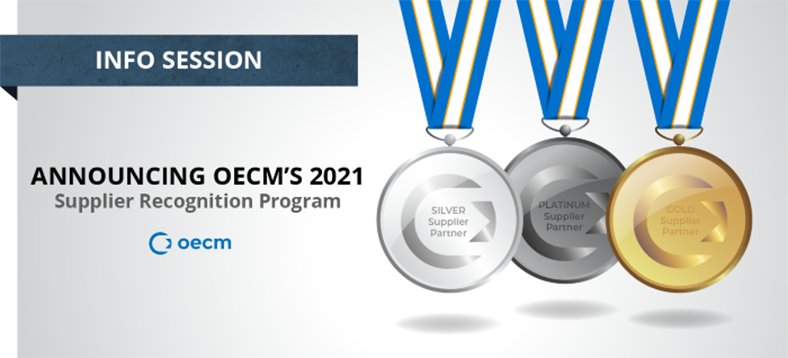 OECM Supplier Partners,
Please join this Information Session for an overview of OECM's 2021 Supplier Recognition Program ('SRP'). This session is for supplier partners who were awarded after June 1, 2019 and are therefore automatically enrolled in this program.
Topics covered include:
Objectives of the program: Why has OECM introduced the SRP?
Key details about the evaluation period, timelines, results, feedback, and supplier partner participation
The scoring methodology and framework used for evaluating supplier partners
The criteria used for evaluating supplier partner performance and areas of focus
Overview of each recognition category for the participating supplier partners (Platinum, Gold and Silver) and benefits/support associated with each
*Please note, a separate webinar will be held for customers on January 15, 2021.
*Please note that the "Customer Feedback" criterion has been removed from the 2021 SRP.
OECM Contact: For more information, please contact Pooja Nagra, Director, Supplier Relationship Management at pooja.nagra@oecm.ca.