COVID-19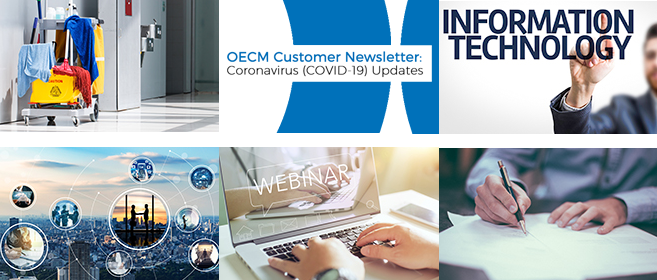 The OECM COVID-19 Customer Newsletter was established in April 2020 to help streamline communication and keep OECM customers up-to-date and informed on product and service news and other OECM supplier partner updates related to the evolving COVID-19 (Coronavirus) situation. We included timely updates about changes to product and service offerings, rising issues with the global supply chain and any resulting impact, as well as ways in which our supplier partners were available to support you and your organizations during this time.
As we collectively move towards a 'new normal', OECM will continue to support all our customers with their immediate needs for products and services related to the COVID-19 pandemic, however we will no longer be issuing a dedicated monthly newsletter update, after December 2021.
Should you require immediate assistance or have questions related to OECM's offerings with regards to COVID-19, please don't hesitate to contact our dedicated Customer Support team at OECM Customer Support or 1-844-OECM-900 (1-844-632-6900).