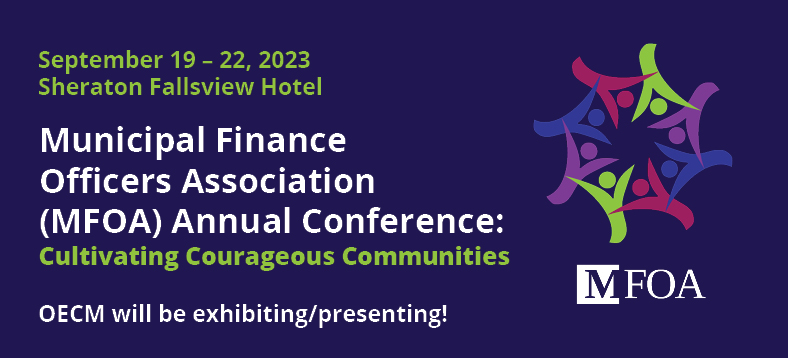 OECM will be presenting/ exhibiting.
Description
OECM is excited to join the MFOA Annual Conference and Exhibitor Showcase, providing an opportunity for organizations to introduce their products and services, build their brand, and network with conference attendees from municipal governments across Ontario.

Exhibitor Booth Hours
Wednesday, September 20, 2023 12:00 PM – 5:00 PM, 7:00 PM – 9:00 PM (EST)
Thursday, September, 21, 2023 8:00 AM – 3:00 PM (EST)
OECM Presentation
Topic: Navigating the Ever-Changing Supply Chain Landscape: New Challenges, Opportunities, Best Practices, and Resilient Procurement Strategies.
Date / Time: Friday, September 22, 2023, 10:45 AM – 11:45 AM (EST)

Presenter:
Jim Hadjiyianni
Director, Business Development, OECM
More Details: Program Outline
OECM Contact: For more information, please contact our dedicated Customer Support Team at customersupport@oecm.ca or 1-844-OECM-900 (1-844-632-6900).