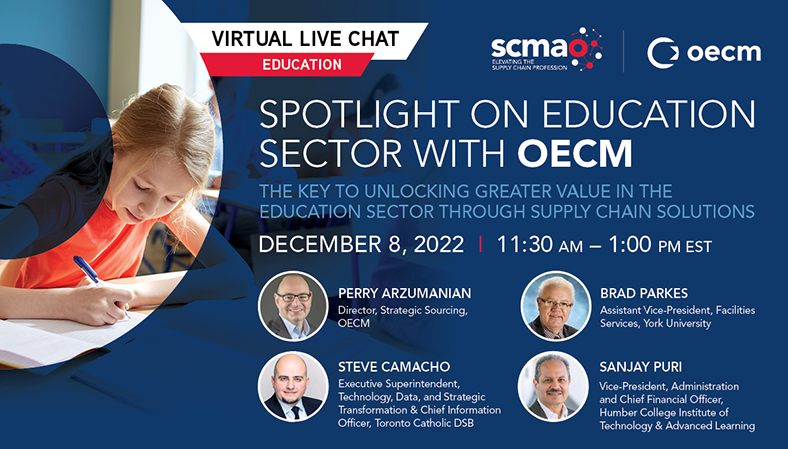 This is a virtual event developed in partnership with Supply Chain Management Association Ontario (SCMAO). Registration for this event is strictly through the SCMAO website.
Topic: Join SCMAO and OECM for our first "Spotlight on Education Sector" Live Chat Event and discover how professionals unlock maximum value in response to ever-changing trends and continued volatility across the supply chain.
Date/Time: December 8, 2022 at 11:30 am to 1:00 pm (EST)
Location: Online – Zoom
Panelists:
Steve Camacho
Executive Superintendent, Technology, Data, and Strategic Transformation & Chief Information Officer, Toronto Catholic DSB
Brad Parkes
Assistant Vice-President, Facilities Services, York University
Sanjay Puri
Vice-President, Administration and Chief Financial Officer, Humber College Institute of Technology & Advanced Learning
Description:

Leverage the insights and experience that OECM and our esteemed panelists from across the Education Sector will share on navigating current supply chain challenges while simultaneously finding long-term value; going above and beyond metrics of compliance, pricing, and savings. This session will be moderated by OECM's Director of Strategic Sourcing, Perry Arzumanian.
Throughout this live event, you'll hear from OECM and our panelists about:
How the education sector is navigating current supply chain challenges and what is being done to maintain supply chain effectiveness
How long-term value is defined, understood, and addressed
What new value judgments and decisions are influencing supply chain solutions and approaches
What supply chain solutions are helping the sector achieve long-term value
OECM Contact: For more information, please contact our dedicated Customer Support Team at customersupport@oecm.ca or 1-844-OECM-900 (1-844-632-6900).