Facilities and Operations
Expiration: July 24, 2024. This agreement has no further extension periods remaining.
General Hand Tools, Maintenance and Safety Products
OECM's General Hand Tools, Maintenance & Safety Products agreement offers a large selection of products available through Fastenal Canada, Ltd.
The new agreement offers thousands of maintenance and safety products to help maintain buildings, outdoor spaces, and vehicles.
Awarded Supplier Partners

   Click on an awarded supplier partner's name, ordered alphabetically in the column on the left, to view complete supplier details, contact information, zones serviced, as well as relevant agreement documents including the Master Agreement (MA), Customer-Supplier Agreement (CSA), price lists, and other related materials, as applicable.
Categories Offered:
Category A – Machinery, Pneumatics/Hydraulics, Power Transmission and Tools

Category B – Fleet Maintenance, Handling & Storage, and Lubricants, Coolants & Fluids

Category C – Fasteners, Metalworking, Welding and Raw Materials

Category D – Outdoor Products & Equipment, Painting & Supplies

Category E – Safety and Security
Key Contact:
Norma Turner
Government Sales Specialist
(519) 842-7488
noturner@fastenal.com
In addition to her office number above, Norma can also be reached at her cell: (519) 550-1801
No Suppliers..!
What You'll Get
Benefits
Thousands of powered and non-powered hand tools, machinery, as well as safety and security products from hundreds of brands
Fixed rates for commonly used products and percentage discounts on catalogue pricing
Dedicated local branches across Ontario with knowledgeable product specialists to provide expert advice
Supplier partner with local stores and expertise who is experienced in working for large and small publicly funded organizations
Product delivery within 48 hours and rush delivery options
Quality warranty support
Products and Services
Coolants
Fasteners
Fleet Maintenance
Fluids
Handling Equipment
Hydraulics
Lubricants
Machinery
Metalworking
Outdoor Products
Painting
Pneumatics
Power Transmission
Raw Materials
Safety
Security
Storage
Tools
Welding
Vendor Managed Inventory (VMI)
Sector Availability
College
Family and Community Services
Government Ministry/Agency
Healthcare/Hospitals
Municipal and Related Services
Other
School Board
University
Project Advisors
Peel District School Board
Peterborough Victoria Northumberland and Clarington Catholic District School Board
Related Events
August 27, 2019
10:00 am – 11:00 am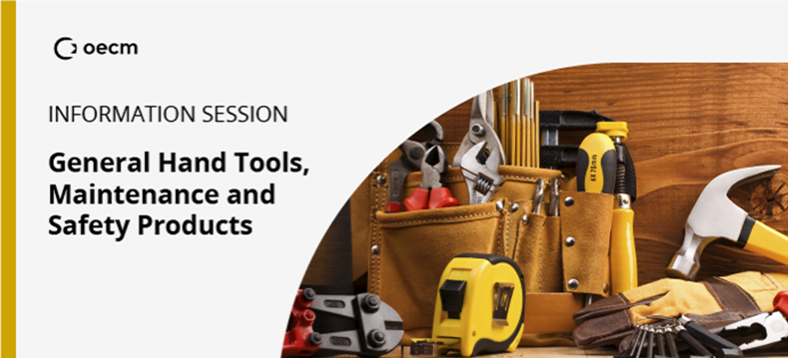 Event Type: Information Session
Category: Facilities and Operations
View Event
Feedback
SRP Customer Satisfaction Survey
As a valued customer with direct purchasing experience with our Supplier Partners, your feedback in the Supplier Recognition Program is crucial. Customer feedback is one of the focus areas used for SRP evaluations and survey (Net Promoter Score, NPS) is used for a customer feedback mechanism. The survey includes the list of suppliers who are eligible to participate in each year's SRP. Survey result will be collected and shared back with the supplier partner by OECM.
Recommended Agreements