In December 2019, the Auditor General of Ontario, Bonnie Lysyk, released her Annual Report, which included a follow-up on the 2017 'value-for-money' audits conducted with School Boards in southern Ontario. The 2017 Report had included a specific recommendation for Ontario's School Boards to collaborate on future group purchasing arrangements, referencing OECM as a primary vehicle for collaboration (Volume 2, Chapter 3, Section 3.12, Item 4.7).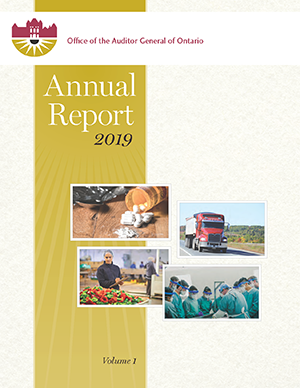 The Auditor General's 2019 follow-up report featured a prominent reference to OECM once again, noting that all four audited School Boards had fully implemented the 2017 recommendation, including entering into more collaborative agreements through OECM. The Report also highlighted the increase in total collaborative spending by all school boards in Ontario through OECM, from $112 million in 2016 to $181 million in the 2017/18 school year (Volume 4, Chapter 1, Section 1.12, Page 187).
OECM is a proven valued partner to Ontario's education sector. In the January 2020 "Grants for Student Needs 2020-2021" recommendations report to the Ministry of Education, the Ontario Catholic School Trustees' Association (OCSTA), in consultation with various Catholic school boards, reiterated the Auditor General's findings, highlighting that while Ontario's Catholic school boards have already realized significant cost efficiencies and savings via ongoing partnerships with OECM, future opportunities to streamline processes and reduce costs, particularly with regards to Ministry reporting, exist. OCSTA references OECM's Student Information System (SIS) agreement with Fujitsu Canada as an example of centralized procurement best practice.
OECM is proud of the consistent recognition in the Auditor General's Annual Reports and Ms. Lysyk's confidence in the value of our organization as a trusted not-for-profit collaborative sourcing partner for Ontario's school boards. We continue to prioritize collaboration with our customers in the education sector and the broader public sector, working to provide them with better access to a comprehensive choice of goods and services to help them recognize even greater cost savings and overall efficiencies.