Last October, OECM conducted the second wave of our Customer Satisfaction Survey to help us gauge and better understand the customer experience, including satisfaction with OECM's Marketplace of Products and Services. Responses gathered during the first and second wave of the survey in 2021 and 2022 provided OECM with valuable insights and have helped inform several Key Performance Indicators (KPIs) in areas such as Overall Customer Satisfaction, Customer Retention, and the value that OECM delivers to our customers. The survey was conducted by Nanos Research, an independent organization running this initiative on behalf of OECM. We are excited to share the results with you and are grateful to everyone who participated in the survey. The feedback from this survey will provide OECM with the tools to measure, monitor and consequently deliver on these KPIs on a go forward basis, and as we advance our customer-centric service delivery model and approach.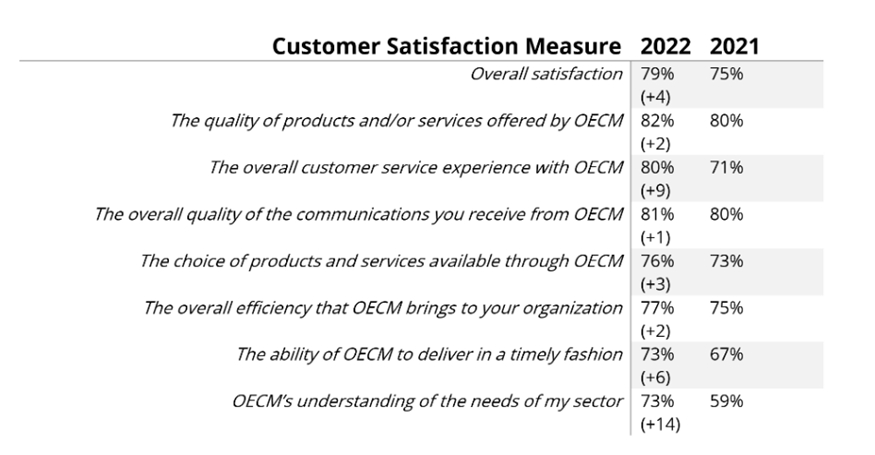 High Overall Satisfaction: Customers continue to indicate that they are highly satisfied with working with OECM – with an average mean score of 8.4 out of 10.

Good Mutual Relationship: OECM customers most often stated that the reason for giving a high satisfaction rating included "having a good relationship" with OECM, as well as OECM "saving them time" and "streamlining procurement."

High Overall Satisfaction for Quality of OECM Products & Services: Consistent with 2021 results, OECM customers continued to give a high satisfaction rating, a mean score of 8 out of 10, for the quality of OECM's products and services offerings, customer service experience, and quality of communications.

The Majority of Customers Would Recommend OECM: A strong majority of those surveyed indicated a high likelihood of recommending OECM as a collaborative sourcing partner to colleagues in similar organizations or institutions, with a mean score of 8.3 out of 10.