Work Hard, Play Hard: Staff Tournaments, Lunchtime Pool Meetups, and More!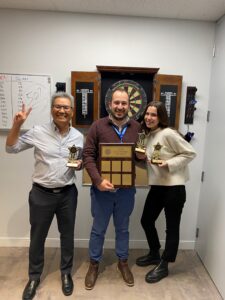 At OECM, we work hard, and we play hard! We prioritize staff engagement as an essential component of our People Strategy, and in 2022, we initiated numerous staff activities that encouraged team-building, healthy competition, and meaningful interactions. We inaugurated OECM's Annual In-Office Darts Tournament, which generated a competitive spirit amongst our teams and brought out our staff audience in droves. The tournament was so successful that staff members are already readying themselves for the next competition. Many of our staff members have scheduled lunchtime pool table or foosball meetups and arranged gaming or VR sessions on the office console.
We also hosted a potluck before the holiday season, and staff members volunteered to bring in a dish of their choice. It was an excellent opportunity for employees to learn about one another's cultural cuisines and explore different palates. To wrap up the year, staff and their families were invited to attend OECM's first Theatre Night to watch Joseph and The Amazing Technicolor Dreamcoat at the Princess of Wales Theatre.