Introducing OECM's Second Stage Selection Process
In this issue, we introduce you to the advantages of OECM's Second Stage Selection Process.
Did you know! OECM agreements have two purchasing options that help our customers gain a competitive advantage. You can either buy directly from a supplier partner using agreement maximum rates OR choose to leverage the optional Second Stage Selection process to maximize savings based on your organization's specific needs.
OECM Agreement Purchasing Options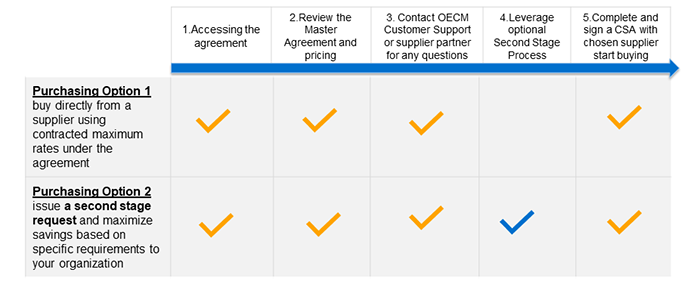 OECM's Second Stage Selection process allows our customers to request and obtain quotes for their specific product and/or service requirements from the list of pre-qualified supplier partners, resulting in a reduction of cost and time. The process is non-binding, simple and quick, and also allows for customization and choice so that you can secure the right supplier partner to meet your needs.
All eligible agreements on the OECM website include a handy guide to help you navigate through the process. Overall, this is how the optional Second Stage Selection Process works:

Additional points to remember when issuing a Second Stage request:
Ensure all internal (Customer) procurement rules are followed

Engage with internal purchasing department as required

Ensure all necessary Second Stage information is available, including:

Scope of work
Specifications
Drawings, etc.
Terms and Conditions

In recent months, OECM has helped carry out several Facilities and Operations Second Stage Selection requests, including on behalf of School Boards for the CVRIS initiative through different agreements (e.g., Plumbing Products), as well as for customers from other sectors.
"OAPPA engaged OECM to prepare a second stage procurement process for Facilities Condition Assessment Services. The process was fair, transparent, and engaging. The successful proponent for the Ontario Universities was FCAPX. We at Lakehead University have been impressed and pleased with the results of the assessments completed and the additional details brought forward. We would definitely recommend a second stage procurement process with OECM if that is required within your organization and would also recommend the services of FCAPX"

– Hugh Briggs, Director Physical Plant at Lakehead University and President, Ontario Association of Physical Plant Administrators (OAPPA)
"The demand for touchless products such as water bottle fillers, automatic faucets and flush valves has drastically increased as school boards [have] upgraded their facilities to meet current safety protocols; OECM's proactive second stage selection process was instrumental in streamlining the buying process for school boards. Noble Corp. is committed to maintaining our high service levels to meet customer needs during these unprecedented times."

– Mahendra Badlu, Director of Industrial Sales, Noble Corp.
Ready to try out OECM's Second Stage Selection Process? OECM's numerous Consulting Services agreements provide the perfect opportunity to use this optional process!  Learn more about these agreements in our Agreement Showcase feature!
Need more details? Have additional questions? Don't hesitate to reach out to OECM's dedicated Customer Support Team for further assistance on the Second Stage Selection Process.