Information Technology (IT) Solutions
Expiration: January 24, 2029. OECM has the option to extend the Master Agreement for one additional period of up to five years.
Student Information System and Related Services
Get exclusive access to the Aspen Student Information System (SIS) and Related Services through this NEW agreement with Fujitsu Consulting (Canada) Inc. ("Fujitsu").
This agreement has been curated for District School Boards in Ontario based on input received from representatives from various English and French language school boards.
Fujitsu and Follett of Canada Inc. ("Follett"), have partnered together to provide the Aspen Student Information System – Ontario Baseline Configuration (Aspen SIS OBC) to meet the requirements of District School Boards in Ontario.
Our supplier partner, Fujitsu, is a global full service provider of information technology and communications solutions and was selected through a rigorous sourcing process conducted in adherence to the BPS Procurement Directive, and applicable trade agreements.
Fujitsu offers access to the Aspen Student Information System, which has the ability to maintain, manage, process, and report on critical student data and can be deployed as either a Software as a Service (SaaS) or On-Premise solution, based on school board preference.
Together, Team Fujitsu/Follett will provide school boards with a comprehensive Aspen SIS OBC.
Awarded Supplier Partners
Products and Services
Aspen
Attendance
Data management system
Enrolment
On-premise solution
Parent login
SIS
Scheduling
Software-as-a-service
Staff login
Student Information System
Student login
Project Advisors
Avon Maitland District School Board
Conseil des écoles publiques de l'Est de l'Ontario
Conseil scolaire Viamonde
Conseil scolaire de district catholique Franco-Nord
Conseil scolaire de district du Nord-Est de l'Ontario
Durham Catholic District School Board
Durham District School Board
Greater Essex County District School Board
Hastings and Prince Edward District School Board
Lakehead District School Board
Lambton Kent District School Board
Limestone District School Board
London District Catholic School Board
Ottawa Carleton District School Board
Peterborough Victoria Northumberland and Clarington Catholic District School Board
Thames Valley District School Board
Toronto Catholic District School Board
Upper Canada District School Board
York Catholic District School Board
Related Events
February 26, 2019
2:00 pm – 3:00 pm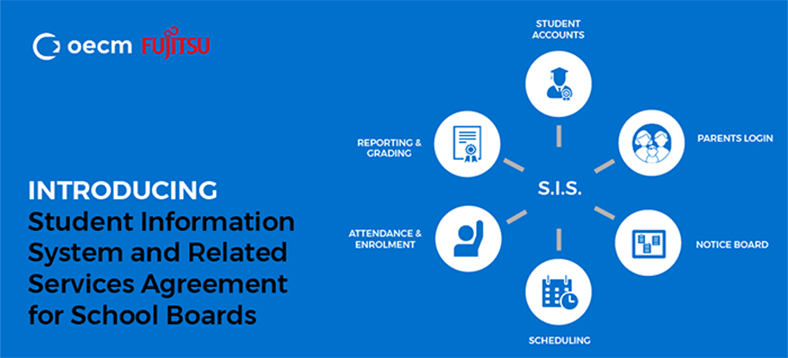 Event Type: Information Session
Category: Information Technology (IT) Solutions
View Event