Data utilization is a fundamental tool for an organization to establish benchmarks, measure Key Performance Indicators (KPIs), problem-solve, improve processes, identify the market and customers' needs, and set future goals that align with the company's strategic plan. This is where our in-house data masters make all the difference!
OECM's Business Intelligence team oversees our data architecture, provides analytical support to our leadership, delivers regular and consistent data insights on corporate undertakings, budgets, and forecasts, and promotes the practice of using unbiased data to leverage opportunities that support operational and strategic decision-making.
Guided by the leadership of Len Scavuzzo, Vice President, Corporate Services and Chief Financial Officer (CFO), the team is led by Belinda Yu, Director, Finance and Corporate Services and Jessie Liu, Senior Manager, Business Intelligence. The team's operations are further supported by Manager, Business Intelligence, Steven Sun, and Business Intelligence Analyst, Claire Lam.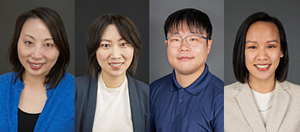 The team has collaborated on several significant projects, such as creating a centralized online data hub that allows all teams to have consistent, organized, and easy access to the latest data (including commonly used data points such as spend, customer insights, etc.), developing an automatic report refresh process that accelerates report updates, and leveraging robotic process automation, which has reduced the effort of sending out reminders and overdue notices by 300+ hours. To equip all our staff with knowledge on how to capitalize on data, the team has hosted a series of training sessions on business intelligence tools at various competency levels.

"I'm proud of my team members who possess data literacy and are highly proactive in troubleshooting current and foreseeable problems and operationalizing new ideas. Our goal is to build a superior data culture across the organization and support our mission of delivering value, savings, choice, and service to our customers," shared Jessie Liu.