Toronto, ON – OECM is delighted to announce the achievement of a new notable milestone – reaching $2 billion in accumulated collaborative spend.
Representing consistent year-over-year increases in collaborative customer spend, this figure demonstrates OECM's tremendous growth and success in upholding its commitment to deliver value, generate savings and create greater value and efficiencies for its customers.
"As the outgoing Chair of OECM's Board of Directors, I'm proud to have played a part in contributing to this exciting milestone and would like to extend my congratulations to the entire OECM team," says Arnie Strub, Former Chair of the Board, OECM. "By comparison, in 2018, after 12 years in operation, OECM reached $1 billion in accumulated collaborative spend, and now, in just under two and a half years, we have succeeded in reaching our second billion; a clear indication of OECM's trajectory for growth and future success."
Newly appointed Chair of the Board, Dr. F. Haider Alvi, joined Arnie Strub and OECM's President and CEO, John Sabo in commemorating this achievement. "This is a momentous occasion at OECM and we look forward to supporting the organization in achieving its strategic objectives, ensuring operational excellence in 2020 and beyond, and reaching that next milestone of $3 billion in record time," he added.
Since its inception in 2006, OECM has made great progress towards becoming the trusted and well-established not-for-profit collaborative sourcing partner for Ontario's education sector, broader public sector and other not-for-profit organizations. Collaboration and strong relationships are vital to ensuring OECM's customers obtain the best overall total value and quality of service through an extensive marketplace of product and service offerings. Solid relationships and seamless partnerships with innovative and reputable supplier partners have contributed greatly to OECM's growth and continued success.
"OECM's mission to generate savings by unlocking the potential of collaborative strategic sourcing is deeply embedded in every aspect of our day-to-day operations," says John Sabo, President and CEO, OECM. "It is through the commitment and contributions of our dedicated and talented staff, and the support of our esteemed Board of Directors, that we are able to celebrate this exciting achievement today."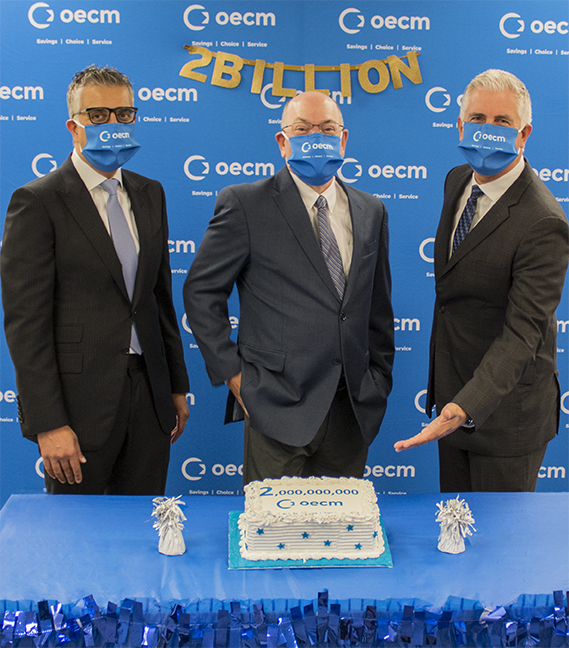 Photo: President and CEO, John Sabo (right), joins newly appointed Chair of the Board, Dr. F. Haider Alvi (left) and Former Chair, Arnie Strub (centre), in commemorating $2 Billion milestone.