OECM's partners in the Education Sector continue to identify an urgent need for products and services deemed essential for health and safety preparedness in schools and campuses, as well as, for assistance with remote learning during the COVID-19 pandemic.
This includes access to specific Air Hygiene, Cleaning and PPE products (i.e. electronic wipes, vinyl gloves, safety goggles/glasses, air purifiers and HVAC MERV filters), IT products (i.e. Chromebooks, Software Solutions including Google G-Suite Enterprise for Education), audio and visual equipment for remote learning facilitation (i.e. web cameras and other accessories) and access to related information via Webinars.
As our customers continue to navigate the evolving pandemic and work to make the necessary adjustments in their schools and campuses, OECM has developed the following special update and overview of essential COVID-19 related products, available to you through our supplier partners on various OECM agreements.
Access electronic wipes, vinyl gloves, safety goggles/glasses, portable air purifier units and HVAC MERV filters for optimal health and safety!
These products are available as part of OECM supplier partners' core and/or non-core offerings through the below OECM agreements, as follows:
Custodial Supplies and Equipment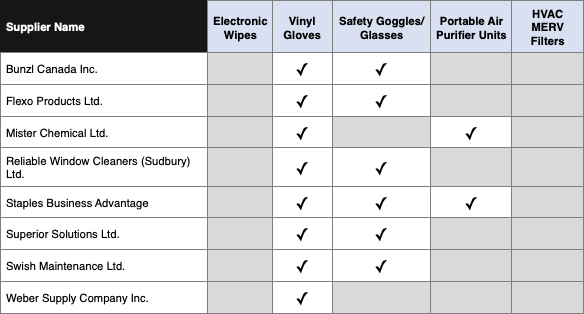 General Hand Tools, Maintenance and Safety Products

Laboratory and Science Supplies


HVAC Systems Air Filters and Related Services

Did You Know? Air filtration enhancements are integral in mitigating the risk of disease and infection. Typical pre-filters are a MERV 8 pleated filter. It is recommended that these be upgraded to a MERV 13 filter for optimal efficiency and up to 85% increase in removal of airborne particles. In addition, a typical final filter (if part of your HVAC system) utilizes MERV 14 filters and higher. It is recommended that filtration be upgraded to MERV 16 filters to increase removal efficiency of airborne particles to up to 90%.
Click here to read more about Coronavirus Precautions for Reopening of Schools – Air Filtration Enhancements.
Click here to read more about Proven Indoor Air Hygiene Solutions for K-12 Schools.
Access Chromebooks, Google Chrome Suite, a promotional discount on Google G-Suite Enterprise for Education, and more!
Get assistance in facilitating effective and efficient remote learning with access to Chromebooks and products that include all of the elements within the Google Chrome Suite, now available through OECM supplier partners Compugen Inc. and Northern Micro Inc. on our Chrome Devices and Services Agreements as well as through OECM supplier partners CDW Canada Corp., Compugen Inc. and Dell Technologies on our End-User Computing Devices and Services Agreements. Click here for the recent communication from OECM with more information.
Limited time discount offer! Softchoice Canada Ltd., OECM supplier partner on our Software License Products and Related Services Agreement is offering special promotional discount pricing of $29.50 CDN/per staff/per year on the Google G-Suite Enterprise for Education update, effective until December 31, 2020. (Contract options for 1, 2, or 3 years). Click here for additional details on this special offer.
As well, stay tuned for details about an upcoming webinar with Softchoice Canada Ltd. on Google G-Suite Enterprise for Education.
Access audio and visual equipment to assist with remote learning and working!
Applied Electronics Ltd., Duplicom Business Products Ltd., Global Unified Solution Services Inc. and One Diversified Audio Visual Canada Ltd., OECM supplier partners on our Audio and Visual System Solutions Agreement have a comprehensive supply of audio and visual equipment, including speakers, microphones and cameras – all essential products in the facilitation of remote learning and 'work from home' scenarios during the COVID-19 pandemic.
Upcoming Webinar: Thursday, November 12, 2020
In response to recent government announcements regarding the benefits of air ventilation for improved air quality and hygiene in schools, OECM and Fellowes will be hosting a joint webinar on how professional air purifiers can fit within your current hygiene strategy. Learn about how professional Air Purifiers with HEPA or Carbon Filters work against airborne viruses to provide clean air in classrooms and shared spaces.
Hygiene Strategies with Air Purifiers for Clean Air in Schools
Date: Thursday, November 12, 2020
Time: 10:00 AM – 11:00 AM (EST)