By Karen Owen, SCMP, Vice President, Supply Management and Customer Relations, OECM
Abstract
In today's fast-paced and complex business environments, the function of procurement must be prepared for change – to transition from an 'old school', transactions-based emphasis on savings alone to a more sophisticated, progressive and integrated approach to category and supply chain value management. Lean project management methodologies, rigorous supplier management programs and strong CRM programs and tools will continue to be foundational procurement processes that ensure risk mitigation and compliance to trade agreements. But, to evolve and thrive, procurement departments must be able to engage in higher-level strategic and collaborative functions, and as procurement transforms, professionals will also need to be more resourceful and better equipped with specialized skills and knowledge to inform business planning and strategy at an early stage.
OECM was created in 2006 to help drive savings and supply chain value for Ontario's publicly-funded education institutions (School Boards, Colleges and Universities), and Broader Public Sector (BPS) organizations. While keeping an eye on the future of procurement, we've recognized the need to continuously evolve — for our organization to be disruptive, our teams to be able to gather and use data and analytics effectively, to prioritize supplier and customer relationships, to bring on resources with a variety of skill sets and to focus firmly on the power of collaboration.
Here are five (5) key trends that we believe organizations should not only pay close attention to, but consider adopting, to stay ahead of the procurement curve.
Top 5 trends that will shape procurement in 2020: an in-depth analysis
Disruptive procurement

Disruptive procurement – deconstructing your organization's needs and processes, looking to information outside of your normal sources and focusing on new ways to collaborate creates value for stakeholders on either side of the equation. Disruption doesn't necessarily mean organizational upheaval, but rather disrupting how your organization functions with the objective of improving and transforming the business.

Recognizing the long-term value of disruptive procurement, OECM's Board of Directors recently endorsed a renewed strategic plan that aims to deliver on a significant trajectory of business growth and transformation for our organization. The plan builds and strengthens the strategic enablers of OECM's business model and provides the foundation for long-term sustainability. Not only does this transformation position OECM as an integral partner for the Ontario Government's recently announced Supply Chain Centralization Initiative (SCCI), it allows us to better serve our customers and strengthen relationships with our supplier partners, thereby unlocking opportunities for collaborative procurement. To learn more: https://oecm.ca/news/unlocking-the-power-of-collaborative-procurement.

Collaborative procurement

Engaging in collaborative procurement initiatives, not only with other internal departments, but between customers and suppliers as well as other procurement organizations, is a powerful cornerstone for organizations who want to continue to drive value and savings.

In addition to responsiveness, integrity, innovation and respect, a key OECM value is collaboration and a commitment to working together to achieve common goals. Collaborative approaches are therefore woven into all that we do. For example, we invite our customers to share their expertise with OECM and supplier partners, and we foster innovation and strategic thinking through ongoing collaboration amongst and between Ontario's public sector. Last February, OECM held the first-ever Ontario Education Sector Collaboration Networking Symposium, a forum for senior leaders from across all 116 educational institutions to discuss opportunities for advancing collaboration within the education sector in Ontario.

Customer Relationship Management (CRM)

Understanding customer priorities, being able to improve customer engagement processes, making effective use of technology, setting standards, measuring performance accurately and involving partners in every step – these are all critical elements for organizations to be able to provide value-based solutions that are both relevant and collaborative.

Figure 1. Seven key elements of the customer-centric service delivery framework

Listen to the customer
Define service offerings
Improve customer engagement processes and make effective use of technology
Set standards and measure performance
Involve partners
Engage staff and change culture
Ensure sustainability

OECM's Customer-Centric Service Delivery Framework supports our strategic priority to deliver unparalleled customer-centric services that position us as a premier collaboration partner for Ontario's education, broader public and not-for-profit sectors. The seven key elements of this customer-centric service delivery framework (see Figure 1) can easily be applied by other organizations with a similar focus.

Business intelligence (data and analytics)

Procurement continues to evolve beyond the 'transaction-based' focus on savings that it was in the past. Much of this can be attributed to the rapid rise of technology in the domain – from the digitization of upstream processes to the use of data capture and analytics to extract more value from sourcing, rather than awarding based solely on the lowest price. Procurement teams today should be spending more time gathering business intelligence to inform strategy and business planning, and less on simply crunching numbers. Business intelligence gained through data and analytics will be critical for procurement in the future, as it positions the function as a strategic enabler of business growth, budget management and driving value for money, beyond just product savings.

At the same time, organizations should focus on finding the right talent, while grooming their in-house resources through specially designed training and professional development programs. Continuous investment in professional development focused on innovation will ensure organizations have access to skilled resources with robust business intelligence (data and analytics), SRM and CRM knowledge. For procurement professionals, the future will be bright for those who exude a passion for strategic supply management — those who are not only proficient in process but also able to contribute to strategy, innovation and business intelligence.

Supplier Relationship Management (SRM)

Supplier relationship management is another function essential to the future success of organizations and will set you apart. Effectively managing supplier performance throughout the contracting cycle and harnessing supplier industry knowledge, expertise and innovation, are critical components to a successful Supplier Relationship Management (SRM) program.

OECM supplier partners play a fundamental role in ensuring our customers' needs are met with consistent and exceptional service. To support our mission of delivering value, savings, choice, and service to our customers, we've worked hard to strengthen our relationships with a growing portfolio of supplier partners.

In 2016, OECM began the development of a robust Supplier Relationship Management program including regular business reviews, the setting and tracking of KPIs, supplier segmentation, supplier business growth plans, and a supplier code of conduct in addition to proactive contract management. We are now implementing a Supplier Recognition Program. OECM's goal is to evaluate each supplier partners' performance objectively, in a fair and transparent process on an annual basis. The program will provide a path for continuous improvement for OECM's supplier partners – both for those who are recognized and rewarded for their top performance and for those who need a little extra encouragement to improve.

Programs like these are critical because they help motivate supplier partners to provide exceptional customer service while fostering collaboration, which drives greater savings and overall value for customers. Click here to read more about OECM's SRM program and SRP.

Trends with future implications, such as blockchain and innovations in artificial intelligence (AI), continue to emerge. Procurement professionals who are keen to stay ahead of the curve and help their organizations quickly navigate the ever-shifting procurement landscape, must keep a watchful eye on trends taking place both locally and globally, but should equally consider the priorities of their organizations, governments and key stakeholders. Lastly, for any of these five trends to translate into future business success, organizations will need to establish continuous opportunities for professional development, with an emphasis on business intelligence, innovation and collaboration, to attract and retain highly skilled professionals with a passion for strategic procurement.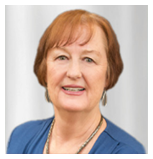 About Karen Owen
A recognized senior leader in strategic sourcing, procurement, organizational change and business innovation, Karen Owen brings over 30 years of Ontario Public Sector experience to her role as VP, Supply Management and Customer Relations at OECM.
Since joining OECM in 2008, Karen has played a significant role in establishing, developing and driving numerous strategic initiatives and projects, working to establish a solid foundation of best practices, skills and innovation that together enhance the value of collaborative procurement. In 2019, Karen was named to Supply Chain Canada's list of 100 Influential Women in Canadian Supply Chain™
The above article was published in the Canadian Public Procurement Council's December 2019 newsletter.