Educational / Recreational Supplies
Expiration: February 1, 2026. OECM has the option to extend the Master Agreement for one additional period of up to two years.
Customs Brokerage and Related Services
This agreement offers services through qualified brokerage professionals who are equipped with the customs knowledge to guide you through importing every type of shipment, including perishable goods, live animals, hazardous materials, and laboratory supplies and equipment.
Awarded Supplier Partners

   Click on an awarded supplier partner's name, ordered alphabetically in the column on the left, to view complete supplier details, contact information, zones serviced, as well as relevant agreement documents including the Master Agreement (MA), Customer-Supplier Agreement (CSA), price lists, and other related materials, as applicable.
What You'll Get
Benefits
Flexible and customizable reporting and billing that is tailored to your needs
Advanced technologies including the BorderTrax app
Rigorous quality control processes eliminating costly errors
Expedited clearance Customs Brokerage Services related to the import and export of shipments to and from Canada and the United States
Make payments and view posted transactions through the Canada Border Services Agency (CBSA) Assessment and Revenue Management (CARM) portal
Provide electronic declarations to CBSA through the Single Window Initiative (SWI)
How to Get Started
How to Get Started with RFP Agreements
Products and Services
Customs Brokerage (Canada & USA)
Educational Webinars
Freight Forwarding
Trade Consulting
Sector Availability
College
Family and Community Services
Government Ministry/Agency
Municipal and Related Services
School Board
University
Project Advisors
Western University
York Region District School Board
York University
Related Events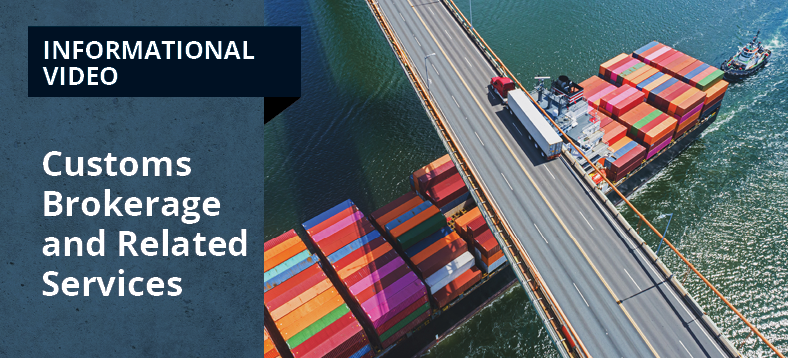 Feedback
SRP Customer Satisfaction Survey
As a valued customer with direct purchasing experience with our Supplier Partners, your feedback in the Supplier Recognition Program is crucial. Customer feedback is one of the focus areas used for SRP evaluations and survey (Net Promoter Score, NPS) is used for a customer feedback mechanism. The survey includes the list of suppliers who are eligible to participate in each year's SRP. Survey result will be collected and shared back with the supplier partner by OECM.
Recommended Agreements