Information Technology (IT) Solutions
Expiration: February 27, 2024. OECM has the option to extend the Master Agreement for one additional period of up to three years followed by one additional period of up to two years.
Student Transportation Planning and Management System
OECM is pleased to introduce the Student Transportation Planning and Management System (STPMS) Agreements. These agreements provide transportation planning professionals with effective and efficient school bus routing solutions that will save time and increase overall efficiency.
You will have access to intuitive, easy-to-use, multi-user routing systems to manage all aspects of your student transportation planning needs. Our suppliers are the leading providers of end-to-end transportation planning and management solutions and services. They offer a full spectrum of integrated optimization & automation solutions and tools to help you efficiently and cost-effectively manage the day-to-day transportation of students and improve your ability to monitor all aspects of the student transportation process.
Awarded Supplier Partners
What You'll Get
Benefits
A comprehensive student transportation planning and management system
Reduced costs
Efficient routing and planning solutions
Multi-user capable systems of sharing information and planning school bus routes
Top-quality customer service
Products and Services
Boundary Planning & Management
GIS
Geocoding
Real Time Bus Tracking
STPMS
School Bus Route Planning
Vehicle Management
Project Advisors
Consortium de Transport Scolaire d'Ottawa
Student Transportation Services York Region
Student Transportation Services of Waterloo Region
Sudbury Student Services Consortium
Choosing Your Supplier
To truly gain a competitive advantage, OECM has provided a comprehensive Second Stage Selection guide and template to walk you through all the information required to obtain accurate quotes from our Suppliers should you require.

OECM is available to support you in your decision-making by facilitating the Second Stage Selection process.
Related Events
March 28, 2019
10:00 am – 11:00 am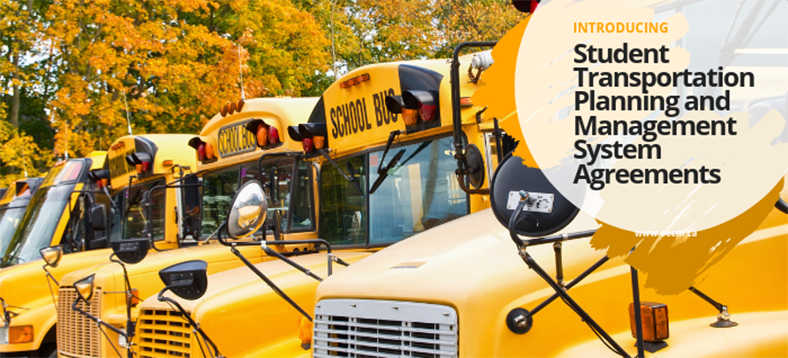 Event Type: Information Session
Category: Information Technology (IT) Solutions
View Event
Sign In / Create New Account
New Users
Registering provides you with many benefits, such as access to
Products and Services Management
Watch List
Saved Categories
Agreement History
Register Today
Password Reset
If you have forgotten your password, click the "Reset Password" button above. OECM will send instructions to the indicated email address.
Don't yet have an OECM user account?
Register today.