As the Coronavirus (COVID-19) pandemic reaches peak levels, both globally and locally, OECM continues to work closely with all our stakeholders – our supplier partners and you, our customers – to encourage greater collaboration, facilitate two-way lines of communication and provide support during this time.
Over the past few weeks, we have shared up-to-date information about the various impacts that COVID-19 is having on the global supply chain and how OECM's supplier partners are responding. While some effects (i.e. shortages of essential supplies, longer customer service response times) are more visible than others, supply chains are facing overall high levels of volatility and disruption.
For some of our supplier partners, servicing customers – ensuring the right products are in the right place at the right time – can be a challenge. Many have implemented specific measures to help balance supply and demand issues while they navigate these evolving circumstances, but they all need your help to continue mitigating the effects of this crisis and keep supply chains moving.
As government-mandated closures to schools, colleges and universities and non-essential businesses continue to be in effect across the province, many supplier partners are now experiencing logistical issues in the coordination of delivery and on-site receiving of products. Many suppliers do not have the capacity or ability to hold orders at their facilities.
To keep orders moving and to ensure that products and supplies are reaching customer locations, OECM is asking all customers to contact suppliers to coordinate delivery and to confirm on-site receiving of all orders currently in progress. Delivery arrangements will also need to be made for orders that will be placed with OECM suppliers in the weeks ahead.
Overview of Supply Chain and Disruptions due to COVID-19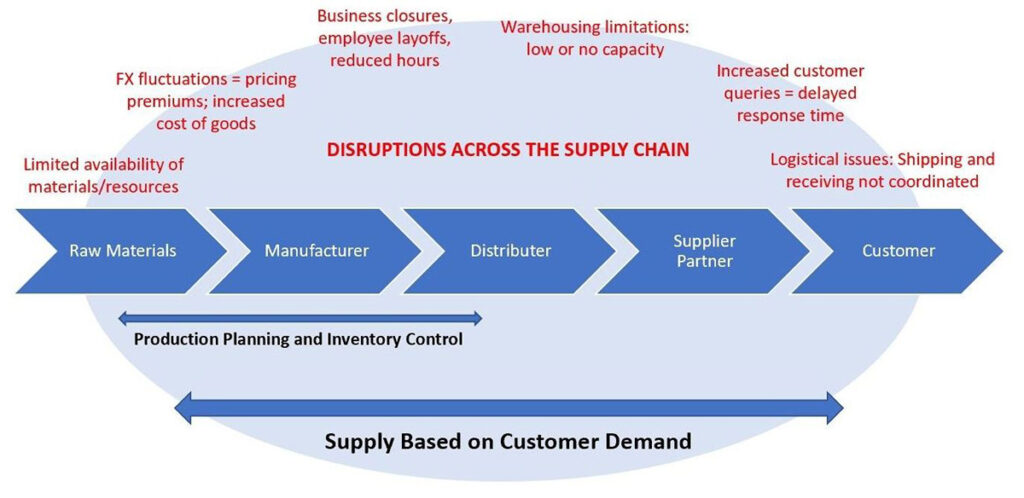 Important OECM Supplier Partner Updates
Most OECM supplier partners are operational, but customers should be prepared for delayed response times and longer fulfillment wait times due to an increased volume of requests.
Many supplier partners do not have the warehouse/storage ability OR capacity to hold customers' orders and those with capacity may apply storage fees to do so. As well, the liability risk for suppliers to hold inventory is high, resulting in them paying higher insurance premiums that may affect storage fees and time limits for holding product in their facilities.
Some supplier partners have requested rate adjustments following significant pricing fluctuations (CAD/USD) – OECM has already and may continue to issue contract amendments, as necessary. OECM continues to review pricing/rate adjustment requests and work collaboratively with all our supplier partners to help mitigate the impact of these fluctuations on our customers.
OECM supplier partners are working to update customers about delays and adjusting customer allocations. Customers are encouraged to speak with their supplier representatives for immediate assistance, or contact our dedicated OECM Customer Support team.
OECM is Available for Customer Support
OECM is here to support you and your teams as we navigate through these uncertain times together. Read our weekly COVID-19 Customer Newsletter for the latest OECM supplier partner product and service updates related to COVID-19. Should you require further assistance or need help in connecting with OECM supplier partners, please don't hesitate to contact our dedicated Customer Support team at OECM Customer Support or 1-844-OECM-900 (1-844-632-6900)