OECM is committed to fostering a work culture that strongly promotes Anti-Racism and celebrates Diversity and Inclusion. Almost one year ago, OECM's Board of Directors endorsed our Anti-Racism, Diversity & Inclusion statement. This statement was widely distributed to our customers, supplier partners and stakeholders.
As part of our continued commitment to foster a diverse and welcoming work culture, we are introducing a 'Diversity and Inclusion Program,' spearheaded by our Human Resources team. A representative, staff-led Diversity and Inclusion Committee will also be put in place. To kick things off, we have asked for staff feedback, to help us better action this statement and identify key events to celebrate.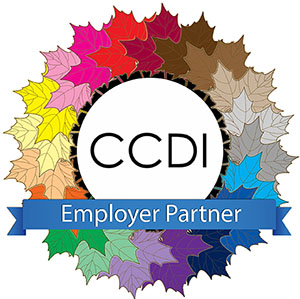 OECM's partnership with CCDI
In this journey, OECM is excited to announce our partnership with the Canadian Centre for Diversity and Inclusion (CCDI). CCDI is a trusted source to help employers, diversity and inclusion/human rights/equity, and human resources practitioners effectively address the full picture of diversity, equity and inclusion within the workplace. CCDI's focus is on practical sustainable solutions that help employers move toward true inclusion.
Through CCDI, OECM staff will have access to educational webinars all year round and at no expense! Previously recorded webinars will also be accessible via the Knowledge Repository. The repository is a "Members Only" e-library with over 1,000 documents containing Canadian and international diversity and inclusion literature, research, reports, toolkits, and news. It also offers access to educational webinars and speaker engagements. OECM staff can also subscribe to the CCDI monthly newsletter titled Diversity Ink, which provides information on CCDI events, research, and other relevant content related to diversity and inclusion.
OECM has posted CCDI's logo on our website, as a further way of outwardly demonstrating our commitment to promoting Anti-Racism while celebrating Diversity and Inclusion.
Did you know? Amongst OECM's 70+ employees, 24 languages are spoken…this is truly amazing!