As a not-for-profit organization, OECM consistently prioritizes opportunities to spread goodwill and generously support as many worthy causes as we can throughout the year. OECM's charitable pursuits combine volunteering with in-house fundraising activities that reinforce our organization's values both within our office doors and beyond.
Fun Fact: In 2022, the OECM family donated $22,610 to various charities, including Cystic Fibrosis Canada, Indspire, St. Michael's Hospital Foundation, the Southlake Regional Health Centre Foundation, SickKids Hospital, and more.
Daily Bread Food Drive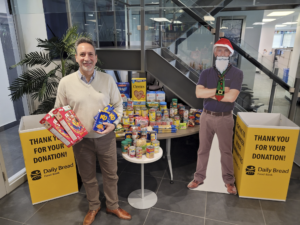 In December, OECM took a step beyond traditional fundraising to serve our community and help local families experiencing hunger during the holiday season. In support of the Daily Bread Food Bank, staff collected and donated three large bins of non-perishable food items, while also raising $3,500 in funds through an in-house raffle. In addition, on January 24, 2023, OECM staff lent a helping hand on-site at the Daily Bread Food Bank in Toronto, participating in a day of service, packing boxes of personal care products, and sorting food. The OECM volunteer team collectively packaged nearly 2,800 pounds of food! We look forward to participating in more volunteer days in the year ahead.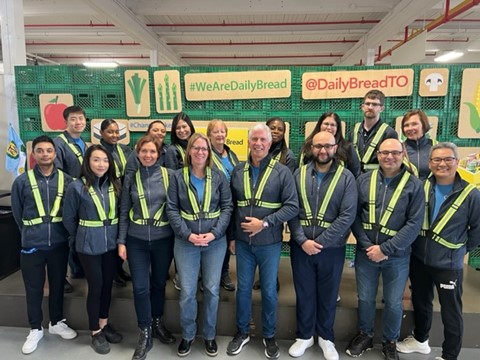 The Daily Bread Food Bank is a Canadian charity organization based out of Toronto that has a team of 100 staff members and over 5,000 volunteers. Cassie Lueders, Development Officer, Community Partnerships and Events at the Daily Bread Food Bank, shared her sentiments, "The thing with food banks is, that it is not a competition. We all try to work together to serve everyone. What most people don't know is that most of our clients work full-time. But with rent and other expenses, it is so hard for them to still make ends meet." The food bank donates anywhere from 110 to 130,000 lbs of food daily to agencies, shelters, schools, and individuals.


CN Tower Climb
We continue to take steps in the right direction with our charitable pursuits! On April 16, 2023, OECM staff will be walking proudly in support of the World Wildlife Foundation (WWF) at this year's CN Tower Stair Climb. The famous stair climb is 1,776 steps or 144 floors, and we currently have 30 staff and family members registered to participate and help reach our fundraising goal of $5,000 for the WWF. We have already raised $4,430 in advance of the event on April 16th. While this event has been on hiatus in recent years due to the pandemic, we're proud to note that this will be OECM's 5th year of climbing the Toronto landmark! Learn more about Team OECM Stair Climbing Stars and donate to our participants here!