Facilities and Operations
Expiration: May 13, 2024. OECM has the option to extend the Master Agreement for one additional period of up to two years.
Commercial Ductwork Sealing and Related Services
OECM's Commercial Ductwork Sealing and Related Services agreements provide access to a range of ductwork sealing and related services suitable for various buildings including schools, colleges, universities, municipal buildings, and more.
This agreement is the result of a procurement project initiated to support School Boards as part of the COVID-19 Resiliency Infrastructure Stream (CVRIS) Support Initiative for education-related projects that protect the health and well-being of students, staff, and children. As such, there may be significant demand from School Board customers in 2021, however, the resulting agreement has a term that extends beyond 2021 and is available to support all OECM customers.
Awarded Supplier Partners

   Click on an awarded supplier partner's name, ordered alphabetically in the column on the left, to view complete supplier details, contact information, zones serviced, as well as relevant agreement documents including the Master Agreement (MA), Customer-Supplier Agreement (CSA), price lists, and other related materials, as applicable.
What You'll Get
Services to meet your specific needs
Access to a variety of Commercial Ductwork Sealing services provided by a qualified supplier partner, including aerosol, mastic, taping, and coil and duct cleaning
Full-service implementation strategy for your project to improve indoor air-quality/flow including an Air Audit and a plan to evaluate and maximize energy savings and Green House Gas (GHG) reductions
Ductwork sealing process that includes duct preparation, duct sealing, duct testing, duct reassembly, cleanup, reporting and recommendations
Service technicians that are trained in the Ontario Health and Safety Act ("OHSA"), Asbestos Awareness Training, and Ontario Safe Schools Act ("OSSA")
Warranty
Standard service warranty on ductwork sealing application for a minimum of three (3) years against defects, with full repair or replacement of defective services, including direct labour costs, at no additional charge to the customer
The Aeroseal aerosealized ductwork sealing is warrantied for three (3) years and has a minimum thirty (30) year in-service life expectancy based on laboratory testing
Services
Aerosol Ductwork Sealing
Ductwork Cleaning.
Mastic Ductwork Sealing
Other Types of Ductwork Sealing
Taping Ductwork Sealing
Sealing Profile Reports
Air Audit
Inspection
Ductwork Leakage Testing
HVAC
Sector Availability
College
Family and Community Services
Municipal and Related Services
School Board
University
Project Advisors
OECM Facilities Support Team
Related Events
May 17, 2021
9:00 am – 9:00 am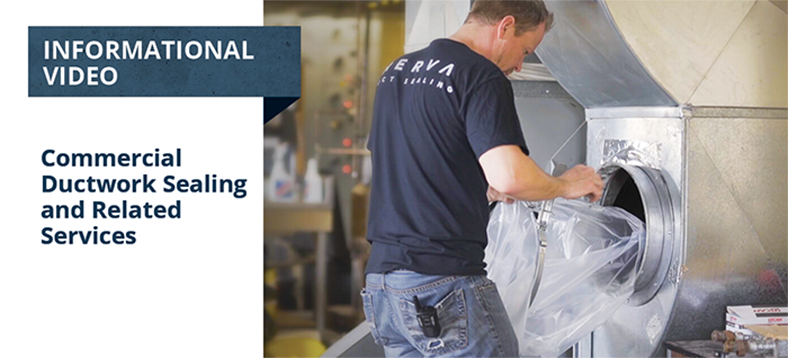 Event Type: Informational Video
Category: Facilities and Operations
View Event
Feedback
SRP Customer Satisfaction Survey
As a valued customer with direct purchasing experience with our Supplier Partners, your feedback in the Supplier Recognition Program is crucial. Customer feedback is one of the focus areas used for SRP evaluations and survey (Net Promoter Score, NPS) is used for a customer feedback mechanism. The survey includes the list of suppliers who are eligible to participate in each year's SRP. Survey result will be collected and shared back with the supplier partner by OECM.
Recommended Agreements