Last year, OECM received requests from thirty-four (34) district school boards to conduct a procurement of an ERP solution. Following consultations and discussions with the Ministry of Education (MEDU), the Educational Computing Network of Ontario (ECNO) and with support from the Council of Ontario Senior Business Officials (COSBO), OECM is currently preparing to spearhead an Enterprise Resource Planning (ERP) System(s) project, with an anticipated launch by mid-2022. The RFP for this very significant project will include a comprehensive list of requirements for an integrated ERP system covering the core functionalities, including but not limited to, Finance (AIR, NP, G/L, Job Costing and Budgeting), Procurement, Payroll, Human Resources, Inventory Control and the optional functionalities of Work Order Management, Capital Asset Management, Fleet Management, and Data Analytics.
To assist with the development of an RFP for an ERP System(s) that suits the needs of our school board sector customers, it is imperative that OECM engage with representatives from the various district school boards as well as OASBO Committees including: Information and Communications Technology, Human Resources, Payroll, Finance, Supply Chain Management, among others.
OECM will also take into consideration the ERP Reference Architecture (RA) work conducted by MEDU in partnership with ECNO, using the finalized RA (expected completion by late January 2021) to help us define business and technical requirements for the ERP System(s) RFP. The RA will consist of various elements including a functional model, business process models, conceptual data models, logical data models, data exchange models, functional and non-functional requirements, and more.
At this time, we are seeking Expressions of Interest from school boards to identify current levels of interest and potential for participation to aid in the development of the RFP over the next few months. We ask that you please email our dedicated Customer Support Team at customersupport@oecm.ca to provide your expression of interest and any pertinent insights into this project, on behalf of your school board.
As part of the project planning and development process, OECM, in consultation with COSBO, has developed the following proposed Project Governance Structure to guide both the project and the implementation of the selected system(s). A formal Project Governance Structure will be established/finalized once school board participation and interest is ascertained.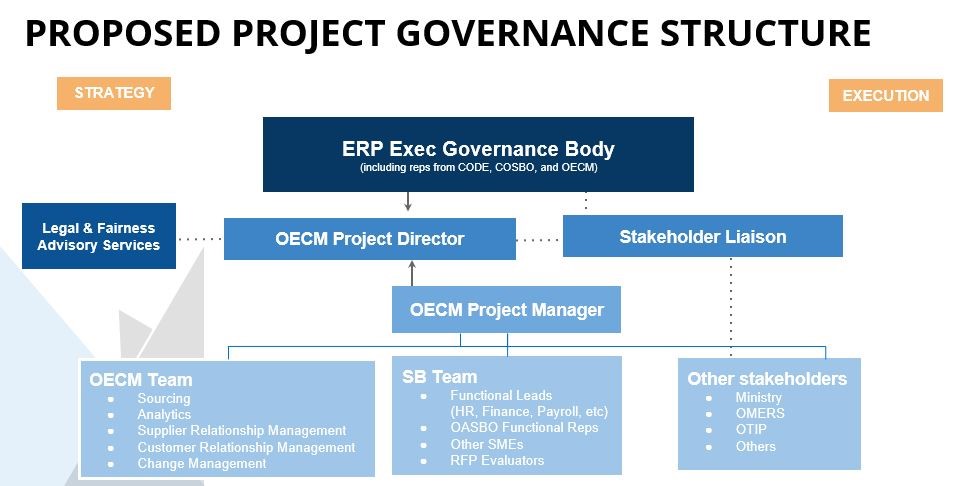 For more information about this process or further assistance, please don't hesitate to contact Karen Owen, Vice-President Supply Management and Customer Relations, at karen.owen@oecm.ca.