Facilities and Operations
Expiration: May 14, 2023. This agreement has no further extension periods remaining.
Portable Classroom and Modular Building Supply and Installation
This agreement offers fast, flexible and affordable solutions to the education sector working with tight timelines and budgets. Portable classroom buildings are sustainable, relocatable and cause minimal site disruption. They provide flexibility to school districts, enabling a quick response to demographic changes, and the ability to relocate from one location to another, as demands change.
Environmentally controlled portable modular buildings can be used as standalone classrooms or as a unique hybrid approach that blends the best of both off-site and on-site construction. They range in size and design and include applications in the educational, health care, and institutional construction markets.
Awarded Supplier Partners
What You'll Get
Benefits
Leading classroom designs for sustainable learning environments.
Portable Classroom design and construction that is compliant with the Ontario Fire Code Regulations 213/07, current energy standards and Ontario Building Code – including Supplementary Standard SB-10 for all applicable zones in Ontario.
Replacement solution for end of life portable classrooms and more.
Products and Services
Delivery
Educational Webinars
Installation
Modular Structures
Ontario Building Code
Portable Classrooms
Relocatable
SB-10
Supply
Sector Availability
College
Family and Community Services
Government Ministry/Agency
Municipal and Related Services
School Board
University
Project Advisors
CSC MonAvenir
Trillium Lakelands DSB
Related Events
June 7, 2018
2:00 pm – 3:00 pm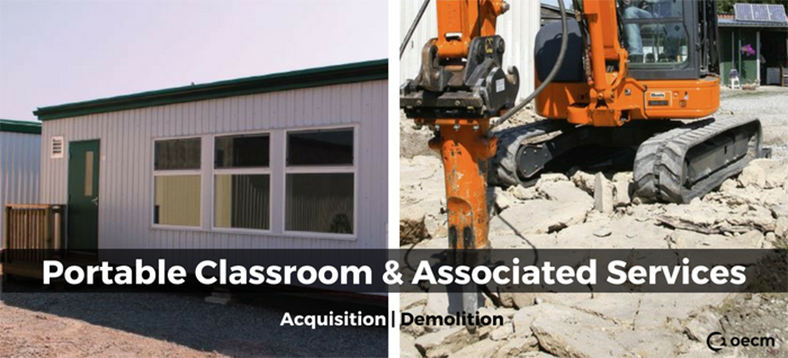 Event Type: Information Session
Category: Facilities and Operations
View Event