---
Navigating Industry Challenges with Insights from OECM's Supplier Partners
---

Welcome back to the third installment of OECM's quarterly Industry Spotlight news resource – featuring industry-related insights and supply chain trends gathered and analyzed by OECM's Supplier Relationship Management (SRM) teams.
In this issue, we're diving into Cloud Technology and Computing – what it is, how it works, its benefits and why it is now a necessary resource for businesses and public sector entities both locally and globally. With input from several of our trusted IT-focused Supplier Partners, including CDW Canada, Compugen Inc., Computacenter Canada Inc., Dell Technologies, and iVedha Inc., we'll also highlight current market trends that are shaping the evolution and usage of cloud technology and computing, and share how OECM, together with our suppliers, can help customers across the broader public sector leverage the power of cloud technology services and use it to their advantage. From just getting started to finding customized solutions to fit your organization's changing needs, there's an OECM agreement and a supplier partner that can work for you. Let's go!
The Landscape: Cloud Technology and Computing in Canada
Cloud technology has become increasingly essential for businesses and public service organizations worldwide, and Canada is no exception. The COVID-19 pandemic accelerated cloud adoption in Canada, with many organizations leveraging cloud-based technologies to support remote work and digital transformation initiatives. However, Canadian businesses and public service entities still lag behind other countries when it comes to cloud adoption.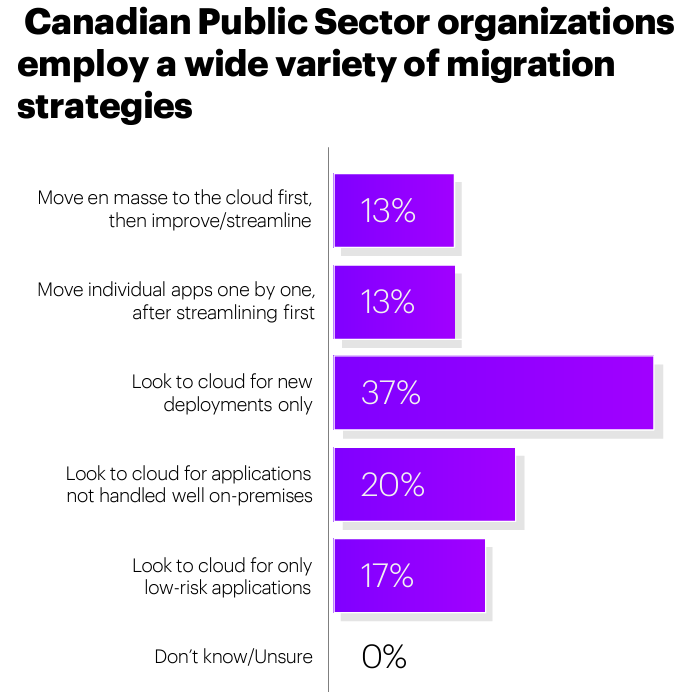 According to a recent Accenture report on Canadian Public Services in the Cloud, 53% of Canadian public service executives believe that accelerating cloud is business-critical and 83% agree or strongly agree that cloud is essential to fuel innovation and new business models. However, while research shows that Canadian public sector organizations employ a wide variety of cloud migration strategies, only 37% of leaders say they are confident in their cloud strategy for delivering and measuring value.










Source: https://www.accenture.com/_acnmedia/PDF-180/Accenture-Future-Of-Cloud-Public-Service-Canadian-Version-Final.pdf
With bold leadership, digital modernization, and investment in digital infrastructure and skills, organizations will fully be able to capitalize on the cloud momentum.
Understanding Cloud Technology and Computing
To determine how your organization can leverage this resource and also gain value, let's start by exploring the basics of Cloud Technology and Computing.
Simply put, cloud computing is the delivery of computing services, including servers, storage, databases, software, and analytics, over the Internet (i.e. "the cloud") to offer faster innovation, flexible resources, and economies of scale. These services are offered by cloud providers, such as Amazon Web Services, Microsoft Azure, and Google Cloud Platform, which offer a range of options for businesses and individuals to store, access, and manage their data and applications.
Cloud computing is a big shift from the traditional way businesses think about IT resources, but the benefits far outweigh the risks. More on that later! First, let's review the three types of cloud computing services and the three major types of cloud technology to better understand options that make the most sense for public sector customers.
Types of Cloud Computing Services
Infrastructure as a Service (IaaS)
Platform as a Service (PaaS)
Software as a Service (SaaS)
Definition
Cloud computing service that provides virtualized computing resources over the internet, including servers, storage, and networking infrastructure. Users run and manage applications, operating systems and middleware.
Cloud computing service that allows users to build, deploy and manage applications using a platform provided by the cloud provider. May include tools and frameworks for building, testing, running and scaling applications.
Cloud computing service that delivers pre-built software applications hosted and maintained by a third-party provider. Applications are accessed through a web browser or API and are usually customizable.
Similarities
✔  All reduce the need for organizations to maintain their own IT infrastructure
✔  All can be accessed from anywhere with an internet connection
✔  All can be cost-effective, as users pay only for what they use
Differences
Provides raw computing resources
Provides a platform for developing and deploying applications
Provides pre-built applications
User Control
Users have complete control over their infrastructure
Users have less control over the underlying infrastructure
Users have no control over the infrastructure
Recommendations
Best for organizations that want full control over their infrastructure
Best for developers who want to focus on building applications rather than managing infrastructure
Best for organizations that want to use pre-built applications without having to worry about maintenance or updates
Major Types of Cloud Technology
Public Cloud
Private Cloud
Hybrid Cloud
Description
Cloud computing service offered by third-party providers, accessible over the internet and shared by many users
Cloud computing service that provides dedicated infrastructure for a single organization/user, usually on-premises or hosted in a data centre
Cloud computing service that combines public and private cloud solutions, providing greater flexibility and control over workloads
Benefits
Great for scaling without limits, adopting modern technology quickly, and innovating at a rapid pace
Offers more control over the infrastructure, and may be better suited for workloads that require closer proximity to transactions
Offers the best of both worlds, allowing users to leverage the benefits of public and private cloud solutions
Drawbacks
Users have limited control over the infrastructure and may be subject to security and privacy risks
Can be more expensive to set up and maintain than public cloud solutions.
Limited scalability compared to public cloud solutions
Can be more complex to set up and manage. May require additional security measures to protect sensitive data
Source: Computacenter Canada Inc.
Why Cloud Computing?
Cloud technology and computing have revolutionized how businesses and individuals store, access, and share information and data. With its scalability, cost-effectiveness, and flexibility, cloud computing is quickly becoming an essential tool for businesses of all sizes, allowing them to compete globally. While there are potential drawbacks, the benefits of cloud technology and computing far outweigh the risks, making it a valuable investment for businesses looking to stay competitive in the digital age.
According to Computacenter Canada Inc., an OECM supplier partner on several IT-focused agreements, cloud infrastructures support environmental proactivity, powering virtual services rather than physical products and hardware, cutting down on paper waste, improving energy efficiency, and, given that it allows employees access from anywhere with an internet connection, reducing computer-related emissions.
Here are a few elements to consider:
Benefits of Cloud Technology
Allows businesses to scale up or down their computing resources on demand, without additional hardware or infrastructure
Provides a cost-effective solution for businesses of all sizes, as they only need to pay for the computing resources they use
Offers greater flexibility, allowing employees to access data and applications from anywhere in the world, if they have an internet connection
Provides disaster recovery and backup services, ensuring that data is not lost during a natural disaster or hardware failure
Offers enhanced security measures, including data encryption and multi-factor authentication, ensuring that data remains secure, even in a breach
Choosing the Right Cloud Strategy for Your Business
As noted by OECM supplier partner, iVedha Inc., when selecting a cloud strategy, organizations must consider several factors, including business requirements, data privacy, regulatory obligations, and potential vendor lock-in risks. Businesses need to assess their individual needs and thoughtfully consider the advantages and drawbacks before settling on a cloud strategy.
Risks & Challenges of Cloud Computing
Cloud computing offers enhanced flexibility, cost-effectiveness, and improved security. However, several IT-focused OECM suppliers also add that businesses need to consider data privacy and security concerns, as well as the risk of service outages. To transition successfully, organizations must address security measures, cost management, compliance, legacy systems integration, and vendor lock-in. By doing so, businesses can leverage the advantages of the cloud while mitigating potential risks.
According to Christine Kelly, Business Development Strategist with CDW Canada, "Organizations are moving applications to the public cloud but are facing challenges in controlling costs, particularly with IaaS. This has led to the adoption of a hybrid multi-cloud first mindset, with a focus on tools and products that enable the cloud operating model across both the data center and the public cloud."
Current Market Trends
Cloud computing has grown in popularity due to its scalability, cost-effectiveness, and flexibility. More specifically, as noted by Dan Po, Account Executive at Compugen Inc., "Cloud technology is gaining market share as more organizations move from on-premises infrastructure to the cloud based on application requirements." He adds: "The most common environment is the hybrid approach, which involves having some infrastructure on-site and using online services where available and secure."
Let's look at a few of these trends in more depth:
Cloud Services Have Transformed Public Sector IT Delivery
Cloud services have become an integral part of how organizations deliver IT resources. In addition to providing elastic resources that scale based on demand, cloud services offer access to services and applications beyond infrastructure and fast delivery through a self-service catalogue. Hybrid cloud has gained popularity, with many public sector organizations looking to build a cloud platform that supports access to existing resources and traditional applications.
The Growth of Hybrid-Cloud
Hybrid cloud has grown in popularity as more organizations realize that a one-size-fits-all public cloud strategy may not meet their specific needs. James Scott, Field CTO at Dell Technologies notes the example of the Government of Canada which has shifted from a Cloud First to Cloud Smart strategy to provide a framework for modernization decisions. "A hybrid cloud allows organizations to combine public cloud services with private cloud infrastructure to maintain control over sensitive data or applications that need to remain on-premises," he notes. "Many public cloud vendors have recognized this demand and are providing tools and partnerships to support hybrid models."
Learn more with insights from Dell Technologies.
OECM's IT-focused supplier partners support government and public sector organizations in adopting hybrid or multi-cloud strategies. These services provide access to everything needed to build a hybrid or multi-cloud environment, including servers, storage, public cloud deployment options, and centralized governance. Consumption models based on usage, regardless of the physical location, provide options that remove the need to worry about traditional data center purchases.
OECM's Cloud Technology and Related Professional Services agreement also simplifies building a hybrid or multi-cloud platform that supports growth. It enables the scaling of private cloud environments, rationalizing application portfolios, and achieving a competitive edge while improving efficiency and reducing costs. It also allows teams to focus on new services and high-level abstractions while maintaining control over existing resources and traditional applications.
OECM supplier partner iVedha Inc. predicts that ultimately "the cloud will continue to play a greater, and even dominant role as they enable organizations to optimize costs, improve ROI, shift from capital expenditures (CapEx) to operating expenses (OpEx), and deliver value to customers in the API economy by adopting strategies such as efficient resource utilization, pay-per-use models, and automation enabled scalability, agility, and cost-effectiveness."
Finding the Right Solution: How OECM Can Help
To fully realize the benefits of cloud adoption, businesses and public service organizations must address the challenges they face and take a more strategic and collaborative approach. By identifying ways to invest in digital infrastructure and skills, aligning cloud initiatives with broader digital transformation goals, and developing strong governance and risk management frameworks for cloud adoption, broader public service organizations and other entities can easily leverage cloud technology to drive growth, increase efficiency, and deliver better services to citizens.

Many of OECM's IT-focused supplier partners offer products and services that can assist OECM customers – whether you're just starting on this journey or adjusting along the way, there's an OECM agreement and a supplier partner that can work for your needs.

Check out the following agreements and supplier partners for more information:
Chrome and Cloudbook Devices and Services
Access a wide range of Cloud-based and Chromebook devices, accessories, and professional services from Original Equipment Manufacturers (OEMs). Benefits include comprehensive warranty services, including standard, optional extended and optional accidental warranty.
Awarded Supplier Partners:
Compugen Inc.
Insight Canada Inc.
Northern Micro Inc.
Powerland Computers Ltd.
End-User Computing Devices and Services
These agreements offer hundreds of products from desktops, laptops, chrome devices and tablets to peripherals and accessories, with free delivery and reduced lead times for online orders. Services include asset tagging and imaging, comprehensive warranty services, and access to dedicated resources with a strong understanding of Ontario's public sector.
Awarded Supplier Partners:
CDW Canada
Compugen Inc.
Dell Technologies
Cloud Technology and Related Professional Services
Choose from three managed or self-managed cloud technology service models that offer secure infrastructure, 24/7 technical support, and encryptions that meet security certifications and the Ontario privacy legislation. Additional services include support for transition, migration and implementation.
Awarded Supplier Partners:
| | |
| --- | --- |
| Carahsoft Technology Corp. | IBM Canada |
| Compugen Inc. | iVedha Inc. |
| Computacenter Canada Inc. | |
The Final Word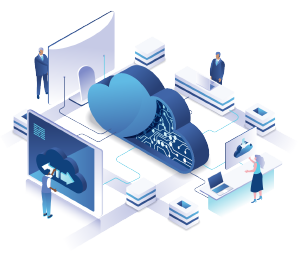 In recent years, cloud computing has emerged as a powerful tool for teams looking to improve efficiency, reduce costs, and better serve their end users. However, selecting the right cloud can be a complex and challenging task. Numerous cloud providers and platforms are available, each with its own features and benefits. Moreover, different teams will have unique needs and requirements that may not be addressed by off-the-shelf solutions and will depend on the application portfolio being utilized.
Dell Technologies' James Scott suggests, "to effectively leverage cloud computing, government and public sector organizations must understand cloud selection's potential business outcomes and benefits, with one of the most significant benefits being the ability to scale resources up or down to meet demand."
"It is this ability to scale, that will allow teams to easily adapt to changing needs and requirements, without worrying about traditional buying cycles and making long-term predictions and commitments."
OECM continues to work to facilitate opportunities for collaboration, transparency, and the timely exchange of information between suppliers and customers so that we can help you better identify and tackle supply chain and industry challenges while supporting areas for modernization and transformation.
If you have any questions about Cloud Technology and Computing support and resources available through OECM agreements, please contact our Customer Support team at:

OECM Customer Support
1-844-OECM-900 (1-844-632-6900)
Stay tuned for the next OECM Industry Spotlight update in September 2023!