---
Navigating Industry Challenges with Insights from OECM's Supplier Partners
---
Introducing OECM's Industry Spotlight

OECM's quarterly Industry Spotlight news resource provides customers with access to various supply chain and industry-related insights and trends gathered and analyzed by our Supplier Relationship Management (SRM) team. This includes up-to-date information on the various challenges our supplier partners are navigating, post-pandemic, as well as environmental, social, and economic factors that are impacting our industries, and more.
In this second installment, we explore industry insights related to a timely and relevant topic that impacts OECM, its customers and its stakeholders – Cybersecurity.
Here, our team looks at rising cybersecurity concerns and threats, and dives deeper into why public sector organizations are more often the target of cyber criminals and identify OECM agreements available to help our customers across the broader public sector navigate these challenges.
Industry Insights: Cyberattacks and the Public Sector
Cyberattacks are more widespread and malevolent than ever before. With the recent wave of high-profile cyberattacks on major Ontario hospitals, school systems and government enterprises, it's clear that in today's unpredictable environment, public sector organizations are at particularly high risk. With more complex and volatile attacks, deep-seated cybercriminal networks, and advanced persistent threat (APT) groups that have greater access to technology which enables the development of malware, scripting and other tools used by potential hackers, the threat landscape is tougher than ever to navigate.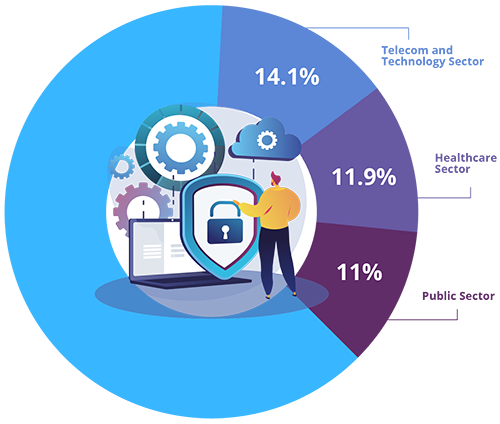 No organization is out of scope – cyber attacks affect not-for-profits, healthcare, and education, with government and public sector entities squarely in the crosshairs of cybercriminals. According to PwC Canada, only the telecom and technology sector experienced a larger proportion of attacks (14.1%) than the healthcare sector (11.9%) and public sector (11%) in Canada in the last year.
Furthermore, PwC Canada notes that government and public-sector entities are highly attractive targets of cyberattacks for the following reasons:
They hold significant volumes of highly coveted data
They are perceived to have virtually unlimited financial resources
They have often underinvested in cybersecurity, and are struggling to modernize legacy systems as well as attract and retain talented cyber professionals to their organizations
This means that government and public-sector organizations are likely to continue to be among the top targets of cyber criminals seeking financial gain or competitive intelligence in the coming years.
OECM recently collaborated with five of our Information Technology (IT) supplier partners to delve deeper into the dangers of cyberattacks on public sector organizations. Our latest, Warning: You've been Infected! features industry-led insights that deconstruct the threat of cyberattacks to the public sector, while highlighting available prevention strategies, cyber resiliency programs and post-attack recovery action plans.
CYBER RESILIENCY: PLANNING AHEAD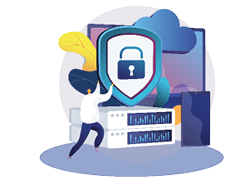 While the cases of cyber threats and the landscape overall are expected to continue to grow exponentially due to increased hybrid cloud adoption and remote/work-from-home models, it's not all doom and gloom. Organizations can and should plan ahead so that they have both, strong data protection and detection capabilities as well as a robust plan for recovery in place as part of their cyber resiliency and risk management strategies.
Many of OECM's IT-focused supplier partners offer products and services to assist OECM customers with cybersecurity planning and risk management, including support and resources that can help organizations better prepare to keep cyber threats at bay while protecting their people and businesses for the long term.
Check out these offerings available through the following agreements and supplier partners:
Cybersecurity: What's the Outlook?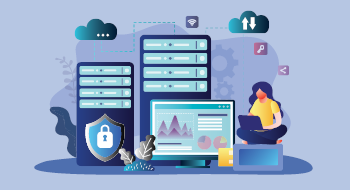 Tight budgets and stretched resources – particularly in today's 'always on' online world – can make it a challenge for organizations to keep up with new threats, as well as defence strategies, that seem to be emerging every day. However, it's important to note that the threat isn't going away. According to the World Economic Forum, in their Global Cybersecurity Outlook 2023, 86% of business leaders and 93% of cyber leaders believe that global geopolitical instability is likely to lead to a catastrophic cyber event in the next two years.
So, what should organizations focus on as they prepare?
As highlighted in the Government of Canada's National Cyber Threat Assessment 2023-2024, "cyber threats can be mitigated through awareness and best practices in cybersecurity and business continuity." Further, their assessors note that "cyber threats and influence operations continue to succeed today because they exploit deeply rooted human behaviours and social patterns, not merely technological vulnerabilities. Defending against cyber threats and related influence operations requires addressing both the technical and social elements of cyber threat activity."
Working with a trusted third-party IT expert partner is vital to ensure that both types of vulnerabilities are detected and remediated before they are exploited by malicious threat actors. Using a holistic risk-based cyber approach can help organizations ensure they are supporting compliance and sound governance while cost-effectively addressing real-world risks and balancing those risks against other critical outputs, such as ensuring timely, effective, and efficient services.
OECM continues to work to facilitate opportunities for collaboration, transparency, and the timely exchange of information between suppliers and customers so that we can help you better identify and tackle supply chain and industry challenges and areas of impact.
If you have any questions about cybersecurity support and resources available through OECM agreements, please contact our Customer Support team at:
OECM Customer Support
1-844-OECM-900 (1-844-632-6900)
Check out OECM's Industry Spotlight: Focus on Cloud Technology and Computing for more great supplier partner insights.